Affiliate FAQ
How do I benefit?
Affiliates earn at least 30% commission through the sale of Investintech PDF software products.
How long will it take to get up and running?
You can start earning as Investintech affiliate as soon as you're approved into the program.
Who handles product support?
All products that we are offering is market tested technology that has been developed by Investintech.com and offered to thousands of customers of Investintech already. We have a product support team in place that can handle all technical inquiries you may have or you may receive from your users.
What is the affiliate offer?
As a member of our affiliate program, you will get credit when a user clicks on the advertisement, visit our website and purchases a software license. When a software license is purchased, you will receive 30% of the sale. Typically, that is about $25-$30 per sale. Payment is sent on a monthly basis on all balances over $100. The affiliate cookies stay valid for 365 days.
---
Getting started
The Investintech.com Inc. affiliate program offers your visitors coupons, discounts and special offers for high quality software. We sell desktop, server and developer PDF solutions. We pay you at least 30% for every sale you refer. The program is simple to use, and you can get started quickly - after you register and get approved (typically within a day) there are four steps to start running ads on your site:
Select offers that you'd like to run on your site or network.
Get creatives for the offer that you'd like to run.
Add your unique code and links to your site.
Monitor your campaigns in our reporting system and optimize the placement and performance of your offers.
Registering new account
Go to https://affiliates.investintech.com, and you'll see welcome screen with introduction to program and a sign in form with signup link.

After you fill in the registration form we will review and approve your account if you comply with our program policy. Typically, applications are reviewed and approved within a day. Please ensure that at sign-up, you enter correct contact and pay-to information so we can send you checks with your earnings.

Program basics
When you log in you can see some quick stats about your current earnings and number of visitors you sent to our site (3). There are also some interface elements that appear on all pages - logged in user info (1) and the main menu (2).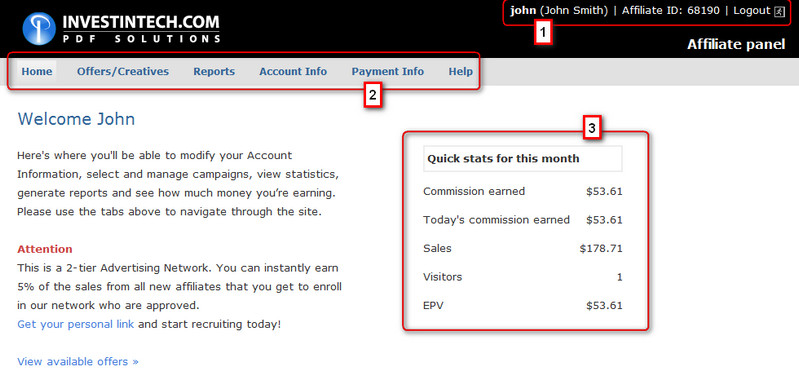 Viewing offers/creatives
Before you can begin earning commissions, you will need to find and select an offer (or multiple offers) to run on your web site. To find an offer, select the "Offers/Creatives" menu item from the menu bar. This will list all of the offers that are currently available for you to earn commissions.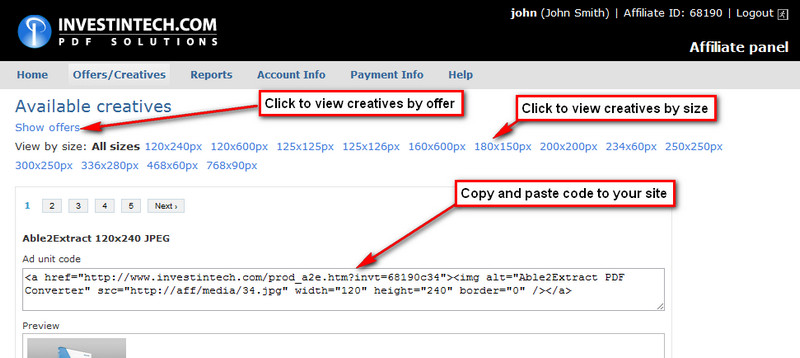 Deploying creatives on your website
After selecting the offer, you should deploy the creatives by clicking on the "Get code" icon. From the list of creatives, select the creative you'd like to add to your web site (multiple creatives can be selected for each offer), then simply place the outputted code (as-is) on your website.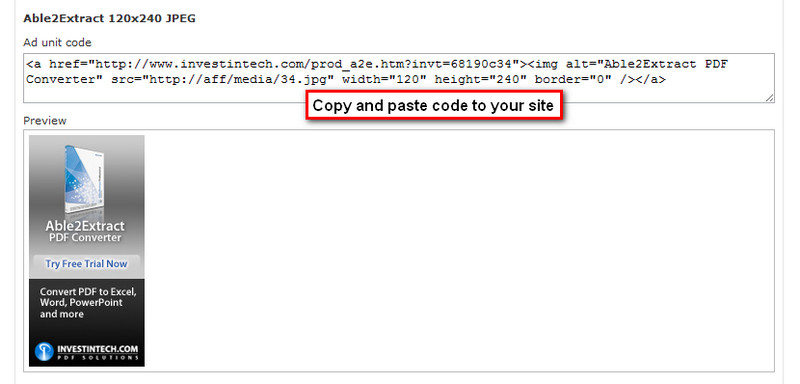 Checking ads performance
By clicking on the "Reports" in the main menu you can see a summary of visits you sent to our site, sales and commissions grouped by date. You can select date range you want. Default date range is current month.

Commissions and payments
When you click on "Payment info" you get the amount of commissions you've earned during the current period and the total commissions you've earned to date. Also, you can see detailed account commissions and payments history.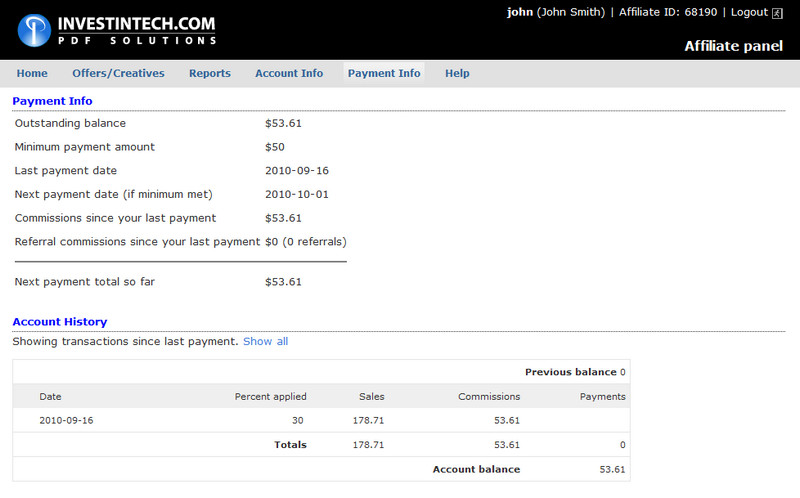 Updating account information
If you want to change or update your account information, you can do so by clicking on the "Account info" link in the main menu. In first section of your account information you can change your contact and pay-to details.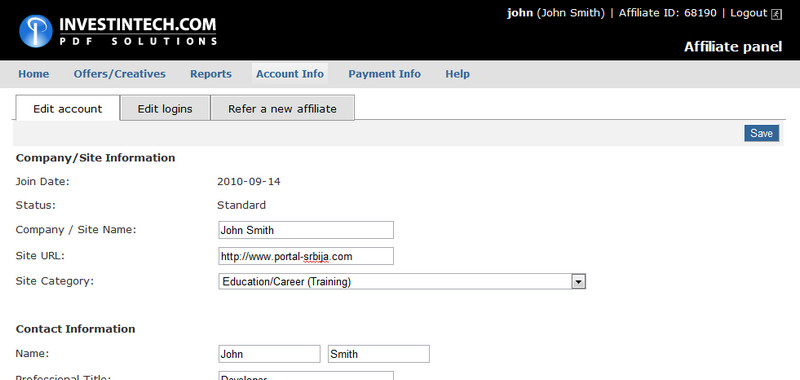 By clicking on "Edit login" tab you can change your username and password. Also, you can designate as many users as you want, who can log in to your account.

The Investintech.com affiliate program is also a 2-tier advertising network. You can instantly earn 5% of the sales from all new affiliates that you enroll in our network. To get your personal link and start recruiting click on "Refer a new affiliate" tab. You can use your personal link however you want to get new affiliates to join our program.

Support
If something goes wrong or doesn't work as expected we offer email support. You can write to and we will answer you as soon as possible.